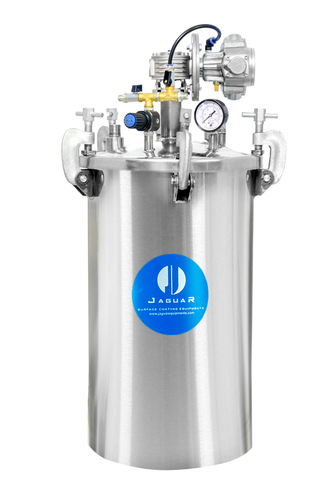 Pressure Feed Container
Product Code : 09
Product Description
Since 1998, we have been providing high quality Pressure Feed Container at best prices to clients. We demonstrate the highest quality and innovation in our range of feed containers and make them available in multiple models and capacities, including 5 ltr, 9 ltr, 22 ltr and 45 ltr.
The Pressure Feed Container we offer comes with a rugged stainless steel or mild steel body, which can be easily attached to a stirrer or an automatic agitator, if required. As these containers are smartly designed and give greater control, disadvantages like cumbersome refilling of the cup, the risk of spilling or interruption of paint supply, etc., is greatly eliminated in these systems.
Features:
Lightweight and easy to operateLong service life with low maintenanceRefilling time & any kind of material wastage is reduced Colour variation in paint is reduced to the minimum as these containers facilitate bulk thinning of paints in required viscosity Operation is simple (No cup and a flexible spray gun)Overall productivity is increased and higher rate of coverage can be achieved
Available with pneumatic agitator according to the need.
Pressure Feed tanks are available in 5, 9, 22, 45, 100, 150 and 200 ltr capacities.
Available in Mild Steel and Stainless Steel.